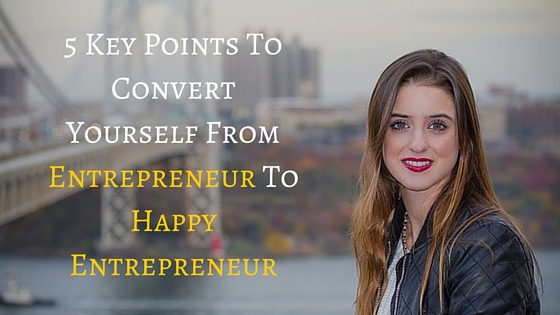 Dispersed Hair, full of energy, laptop in a hand and lots of ideas in mind that's the true picture of today's young Entrepreneurs. But what if this full of ideas mind start turning out to full of stress mind.
There is a slight difference between Being successful and being really successful.
After all, happiness is the key to the real success.
If you're an Entrepreneur who has the power to do anything set up a product which was never thought by others, working day and night as nobody has assumed or even drinking hot tea with chilled ice cream, then this article is for you.
Start becoming really successful with these 5 changes and convert yourself from Entrepreneur to a Happy Entrepreneur.
#1. Learn To Say No
"The difference between successful people and really successful people is that really successful people say no to almost everything."
- Warren Buffet
"Say no to everything, so you can say yes to the one thing."
- Richie Norton
"It's only by saying "No" that you can concentrate on the things that are really Important."
- Steve Jobs
"When you are saying yes to others, make sure you are not saying no to yourself."
- Paulo Coelho
"Saying yes to happiness means learning to say no to things and people that stress you out"
- Thema Davis
#2. Know The Advantages Of Your Flexibility
courage to follow your heart and intuition. They somehow already know what you truly want to become. Everything else is secondary." – Steve Jobs
"Don't limit yourself. Many people limit themselves to what they think they can do. You can go as far as your mind lets you. What you believe, remember, you can achieve."  
- Mary Kay Ash
"If you're not a risk taker, you should get the hell out of business."
- Ray Kroc, founder of McDonald's.
"A person who never made a mistake never tried anything new."
- Albert Einstein, physicist.
"I've missed more than 9,000 shots in my career. I've lost almost 300 games. 26 times I've been trusted to take the game's winning shot and missed. I've failed over and over and over again in my life and that's why I succeed."
- Michael Jordan, NBA Hall of Famer.
#3. Start Hiring The Right People
"The secret to successful hiring is this: look for the people who want to change the world."
- Marc Benioff, CEO of Salesforce.
"The secret of my success is that we have gone to exceptional lengths to hire the best people in the world."
- Steve Jobs
"Time spent on hiring is time well spent."
- Robert Half
"The competition to hire the best will increase in the years ahead. Companies that give extra flexibility to their employees will have the edge in this area."
- Bill Gates
"Recently, I was asked if I was going to fire an employee who made a mistake that cost the company $600,000. No, I replied, I just spent $600,000 training him. Why would I want somebody to hire his experience?"
- Thomas John Watson Sr., IBM
#4. Make Time For Personal Life
"Your time is limited, so don't waste it living someone else's life. Don't be trapped by dogma – which is living with the results of other people's thinking. Don't let the noise of other's opinions drown out your own inner voice. And most important, have the courage to follow your heart and intuition. They somehow already know what you truly want to become. Everything else is secondary."
- Steve Jobs
It's all about quality of life and finding a happy balance between work and friends and family.
- Philip Green
"Personal development is your springboard to personal excellence. Ongoing, continuous, non-stop personal development literally assures you that there is no limit to what you can accomplish"
- Brian Tracy
"Some of the most important conversations I've ever had occurred at my family's dinner table."
- Bob Ehrlich
"At the end of your life, you will never regret not having passed one more test, not winning one more verdict, or not closing one more deal. You will regret time not spent with a husband, a friend, a child, a parent."
- Barbara Bush
#5. Set up An Ideal Work Environment
If you're offered a seat on a rocket ship, don't ask what seat! Just get on.
-Sheryl Sandberg
"You have brains in your head. You have feet in your shoes. You can steer yourself, any direction you choose."
- Dr. Seuss
"Entrepreneurs have a great ability to create change, be flexible, build companies and cultivate the kind of work environment in which they want to work."
-  Tory Burch
"Don't say you don't have enough time. You have exactly the same number of hours per day that were given to Helen Keller, Pasteur, Michaelangelo, Mother Teresea, Leonardo da Vinci, Thomas Jefferson, and Albert Einstein."
-  H. Jackson Brown Jr.
The work environment is very important in determining how enjoyable work is. It is very important to work with smart guys who have a superior level of intellectual bandwidth and still have softer skills as well.
-Kumar Mangalam Birla
So, go ahead start living your ambitions with a pleasant smile on your face. After all,  you yourself can you more than anyone else in this complete world.
Read More: 6 Effective Techniques To Become A Successful Entrepreneur