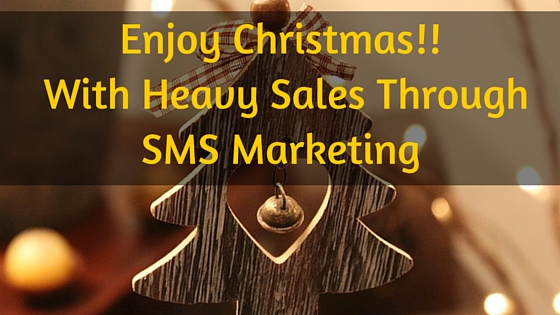 Everyone can hear the knock Knock of Christmas. Everybody is ready to welcome this ultimate Fest. Are you? Yes !! and your business??
It's the time to tie up your lace and tighten your belt because you have to start scuttling to increase your sales in this Festive Season.Do you know- 70% of people would like to receive offers on mobile devices, and 98% of Text Messages are read.
"Marketing without SMS is like driving with closed eyes."
If you want to reach door of each and every subscriber, then SMS marketing the best way to bell their door. Through it you can reach almost everyone or anyone. Nearly everyone has text-message enabled phone and everyone would love to know about your latest offer without even opening his computer, with just a click.
Phones are like body parts these days. One can even imagine his life without any of his body part but without his phone. Am I crazy what I have said !!
Today if you ask people that what is his most personal and precious thing is?-Yes!! His messages Of Course!! It is the most personal and effective way to get connected with your customers. This year is almost over, but shopping isn't, you need to do SMS marketing with these 8 steps and you will reach the destination of best sales achievement of this year.
Provide Esteemed Offers
Start How will recipient benefit from your message?
Push Traffic to Your Website
Let Your Subscribers Know That We Are Here to Hear Them
Enthusiast Customers
Create Last Minute Urgency
Show Importance of Your Subscribers
Don't Forget to Make Customer Remember Your Name
To get more insight see this Infographic below: