Google drive provide cloud storage and file back up, so anyone can keep photos, stories, designs, drawings, recordings, videos anything.

Your data is on cloud, so you can see your stuff anywhere from any smartphone, tablet, or computer.

You can share your files with your friends.
Google Drive for Work
Work Without Limits
Google Drive for Work includes unlimited storage for files, folders, backups and everything important.

Sync all your business files, including Microsoft Office files, across your computer, phone, and tablet to access your work whenever you need it.
Safe, Secure, and Reliable
Google Drive for Work and our data centers are SSAE 16 / ISAE 3402 Type II, SOC 2-audited and have achieved ISO 27001 certification.

It gives companies powerful, easy-to-use tools to manage users, secure devices with mobile device management, set sharing permissions, and gain critical insights with advanced audit and reporting.

Google Drive includes dozens of critical security features specifically designed to keep data safe, secure and in your control.
Ease and Power
Google Drive is used by millions of people at home and work. With easy account switching, people can move seamlessly between their work and personal accounts while maintaining all of the controls that keep work files and information safe.

Simply search to pull up the right file in seconds, even if it's an image or PDF of handwritten notes. Automatic OCR and image recognition brings the magic of Google Search to work.

Google Vault enables search across all content in Drive and export for eDiscovery.
Built for Teams
Save work files or folders in Drive, access them from any device and share them instantly with co-workers, customers or partners.

Stay up-to-date on what's happening on your team with automatic activity updates that show who edited shared files and when.
Read Here – Drive for Work
Google Apps for Work
Forms – Easy to create surveys and forms for everyone.
Select from multiple question types, drag-and-drop to reorder questions and customize values as easily as pasting a list.

Great looking surveys help you connect with customers to gain valuable insights. Watch responses appear in real time.

Sites – Easy-to-create websites for your teams.
Launch an intranet for your company, a project site for your team or a portal for customers with our site builder. All without writing a single line of code.

Develop team sites with important content from projects, the latest sales materials or details about the company picnic.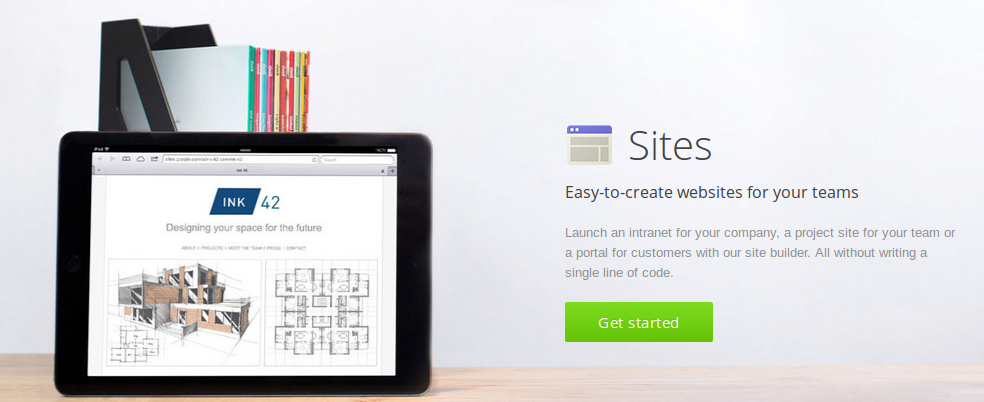 Calender – Integrated online calendars designed for teams.
Schedule events quickly by checking coworkers' availability or layering their calendars in a single view.

View and edit your schedule from your laptop, phone or tablet.

Docs – Word processing for teams.
Create and edit text documents right in your browser—no dedicated software required.

Work in a single document with teammates or people outside your company.

Import your documents to make them instantly editable, including Microsoft® Word and PDF files. Export your work in .docx, .pdf, .odt, .rtf, .txt or .html format.

Sheets – Advanced, fast, online spreadsheets.
Create spreadsheets in your browser—no dedicated software needed.

Create, edit and share spreadsheets from your phone or tablet, no matter where you happen to be.

Import and convert existing spreadsheets to make them instantly editable, including Microsoft Excel® files. Export Sheets in .xlsx, .csv, .html, .ods, .pdf or .txt form.

Slides – Beautiful presentations created together.
Create and edit polished presentations in your browser—no software required.

Multiple people can work at the same time so everyone always has the latest version.

You can enhance your presentations with videos, images, drawings and smooth transitions.

Hangouts – Meet face to face with coworkers and customers.
Connect with the people that make your business run via HD video, voice or text. You can save money and time on travel.

Your entire team can join the same Hangout from their desktop, laptop, tablet or phone with the same easy-to-use experience.

Google+ – A social network designed for business.
Share your thoughts with a specific Community or share a question with your entire organization.

Filter content to find what's most relevant to you.

Google+ is a great way to share the latest demo video, screenshot, product photo or any rich media that is relevant to your followers.

Sources:
https://www.google.co.in/drive/
https://www.google.co.in/work/apps/business/driveforwork/