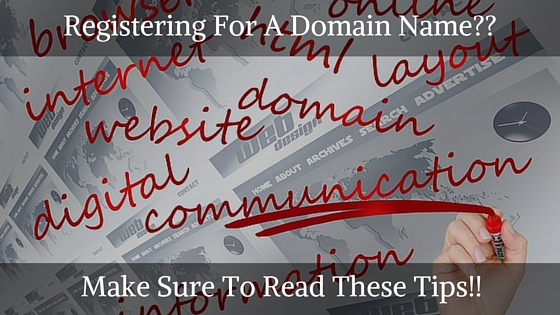 The Internet is now getting converted to the central focus for the businesses to communicate, and if in this present online era if you are not present there, definitely it's going to cramp out the prosperity and the surge of your business and sweep away the potential clients.
If you're deciding to launch your own business and escort it all over the cloud then be ready for one more important and burning concern "domain name."
Many intellectuals thinks that domain name is not a salient stuff to be considered, if you find yourself in the same jar than Sorry to say you buddy! But you're absolutely wrong. Your domain name is as important as your Facebook account and the website itself.
Now, if you've planned to grab a catchy domain name, let me tell you it's not going to be very easy. You must have seen sometimes designers involving more time in deciding the domain names and not in designing the website.
Here are suggestions for you if you're in the same phase of business.
# Brand: The Identity
Brand, a word which differs Coca-cola from no name cola, Reebok from Reeboke and what not a brand does. Branding is the thing which which can frame and can even rupture your business. Your brand let your customers not forget your name. Many companies invest a lot for their brand identity because it is for your customer's rely only.
Your brand composes a matter of rely and remembrance of your customers.
Some years before it was not so necessary but today if you're running a company and desires to convert your product a brand then primary knowledge of domain names is very significant because it is like to your office address. It is the place where your customers can search you and can contact you.
# Extensions
By domain extension what are the words which strikes our mind very first, yes, it's .com, .org and .net. Indeed, this is a fact that the people who doesn't grasp more about web, they don't even think that there is something else exists besides these three extensions.
Sometimes what happens with me is I forget the sites, then in found of the website I start adding all the three extensions after the website's name, and yes! It works for me almost every time, so what happens with other people as well.These three extensions got so trendy  that visitors now starts expecting companies to use them.
Some companies buys all the three at a discounted price.Trust me, it's really a good idea after all this is a very witty move to put yourself in the pole position. These three are cheap, popular and recognizable and i believe these three reasons are enough to go for them.
I am not saying that only these three extensions can help you in getting a popular recognition. If you'll check the domain name of Matt Mulenweg, co-founder of WordPress, I can say it is the coolest domain names ever that is www.ma.tt, he has a Trinidad & Tobago domain, which fits his name accurately. If you can do something creative like this,then go for it.
Related: How to Choose a Correct Domain Name: 14 Top Tips
# Your Location
Before this we talked about the Extensions, now coming to the location, Wikipedia has a long and complete list of world wide TLDs
It depends a lot on your business, your clients,
If you have the company which deals with Danes then using .com doesn't makes any sense, if you can go for.dk .
Hence if you can be creative as Matt then go ahead and be creative.
# Domain Hacks
Hacks, can be said are those agile stuff to blend domain extension into your domain name. Creating such combinations are really frustrating like anything, don't worry there are options available which will spread hands to help you in the same.
If you have prepared yourself for Domain Hack then I'll suggest you for Domainr
People get pulled up by Hacks not only because they are stunning but also because this is the best way to get the most convincing domain name for your company. Find your domain name might frustrate you, so go for hacks.
# Leagality
Okay You have chosen your extension considered your location provided Brand to your company. It's all done, Right? No, it's not the step when you find yourself at the last stage of finessing your Domain, stop for once and go through the legal norms.
After all you would never like to become a mirror of some other company like you. Always be very clear about if your domain name is creating any legal contention with any other company