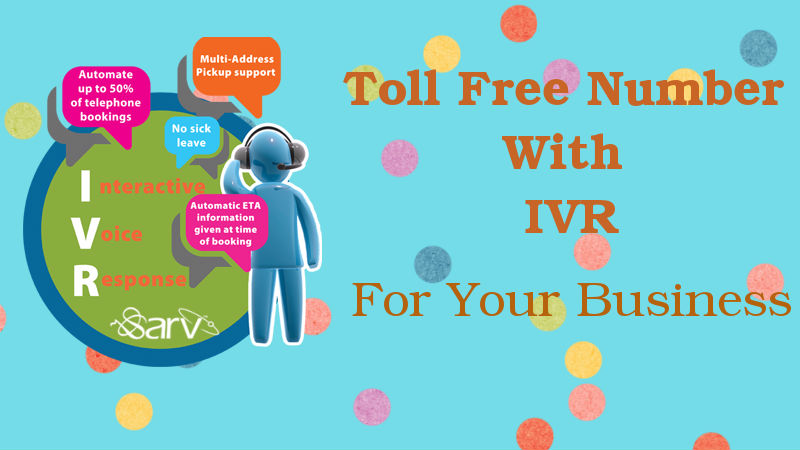 All size of businesses needs a business number to get in touch with their customers. The customer support required in all the businesses for building the professional image. Toll-free number service suits the best to connect with your customers for a good support. Dealing with your customers by providing them a business number which is free for the callers shows your business professionalism. The best part of using toll-free number service is that all the charges of calls are paid from the receiver's end.
Toll-Free Number Service with IVR
Now there is a user-friendly platform IVR which is provided by the number provider company. This platform gives your business a beauty. Greet your customers with a perfect recorded welcoming voice message. This IVR system helps the customers to connect with the concerned person within a single input.
This IVR platform provides the flexibility in call receiving. You can easily forward the call on another number, no extra efforts of forwarding required.
Time-saver, the IVR system is the time saver. This system reduces the task time from the regular time.
Hosted IVR Features
Welcome Voice Message- By using the IVR system you can record a welcome voice message for your customers. Use the customized messages with a human touch that provides a good experience to your customers.
Never miss a single call- Your customer's calls are very important for you, so you can't afford to miss any call. This IVR system provides you the real time notifications. This system instant notifies you by an E-mail if you missed any call. So never miss a single call by using this real-time notification system.
Call Routing- Set a path according to the customer's requirements. Let your caller follow the path according to the query they want to ask. Create the different call routing paths for the different departments.
Multiple Extensions- Through the IVR system, the single number can be used by the multi-agents according to the departments. So this Extension feature provides customers the satisfaction of getting the correct answers for their questions.
Number Choice- You can change your number anytime. The IVR system hosting can be shifted any time according to your requirement.
SMS and Email Notifications- This IVR platform gives you the real-time notification via SMS and Email. Store all the call details on the panel for your further future use.
Benefits of Using toll-free number
Customer Satisfaction, Increase the customer satisfaction by providing them your support all the time. This customer satisfaction makes your brand reputation.
Positive Branding, The toll-free number makes your positive impression online. Some companies use the vanity numbers on their brand's name like 1800- AMPFLEX so this will promote the brand positively.
National Presence, This toll-free number service helps you to extend your reach. Your national presence will increase your reachability. The customer can connect with you nationwide.
Affordability, Toll-free number set-up is very moderate nowadays. The affordable price of toll-free number making it popular for branding also.
An easy way of Serving Customers, That's a very convenient way of connection. Customers prefer this toll-free number rather than using any app or your business site if they have any question regarding your services.
Now the question is,
Does your business need toll-free number service?
Yes, every business who want to increase their national presence, need a toll-free number service for connecting with their customers easily.  Either your business is small or big for creating an online presence and supporting your customers you need the toll-free number.
So, Hurry up! Make your business visible to everyone by using a  toll-free number now.
Related Post: Amazing Statistics To Improve Your Customer Service Make Customers Feel Great