Do you use engaging visuals in blog and social media posts? Here are some facts:
"Tweets with images received 150% more retweets."
"Posts with images get 94% more views than those without."
"Blog posts with visuals attract more backlinks."
Images & infographics are very important for content and social media success. Here are some tools to help you create awesome visuals.
1. PicMonkey – Easy to Use Free Photo Editing Tool
PicMonkey makes creative tools for photo editing and graphic design. Create the most eye-exploding photo you've ever made, with online photo editor. Add text, effects, or overlays.
2. Timeline Slicer – Facebook Timeline Slicer
A simple and easy to use app to help you slice and dice images that will fit perfectly in your Facebook Timeline. Timeline Slicer is a brilliant tool for designing images for your Facebook Page or Profile.
3. Photovisi – Free Online Photo Collage Maker
Photovisi is another photo collage tool that's really simple and easy to use.You don't need to create an account to make a collage, and you can choose a layout and upload your images really fast.
4. Befunky – Free Online Photo Editing and Collage Maker
All the photo editing tools you could want, right in the palm of your hand. BeFunky gives you the photo editing tools to turn your photos into something more than your camera can capture.
5. Canva – Amazingly Simple Graphic Design Software
Canva gives you everything you need to easily turn ideas into stunning designs. Create designs for Web or print: blog graphics, presentations, Facebook covers, flyers, posters, invitations and so much more.
6. Easelly – Create and Share Visual Ideas Online
Easel.ly is a website that features thousands of free infographic templates and design objects which users can customize to create and share their visual ideas online. Easel.ly has made it possible for anyone to design their own custom infographic in minutes.
7. Visually – Content Marketing For Brands
Visually help to create visual content that rises above the noise. This platform seamlessly connects designers, journalists, animators and developers with clients, featuring cloud-based collaboration tools that allow to deliver high-quality content.
8. Piktochart – Create Easy Infographics, Reports, and Presentations
Piktochart is easy-to-use infographic creator. Discover how non-designers are creating beautiful infographics in as little as 10 minutes. Build infographic using simple graphic tools.
9. Recite – Make Quote Look Nice
Recite has my favorite set of backgrounds to choose from, which make it really easy to make your quote look nice.
10. Pinstamatic – Get More From Pinterest
Pinstamatic actually lets you create a whole bunch of items to add to your Pinterest boards including website snapshots, pins of Twitter profiles and Spotify tracks that you can pin.
To Get More Insight, See This Visual!!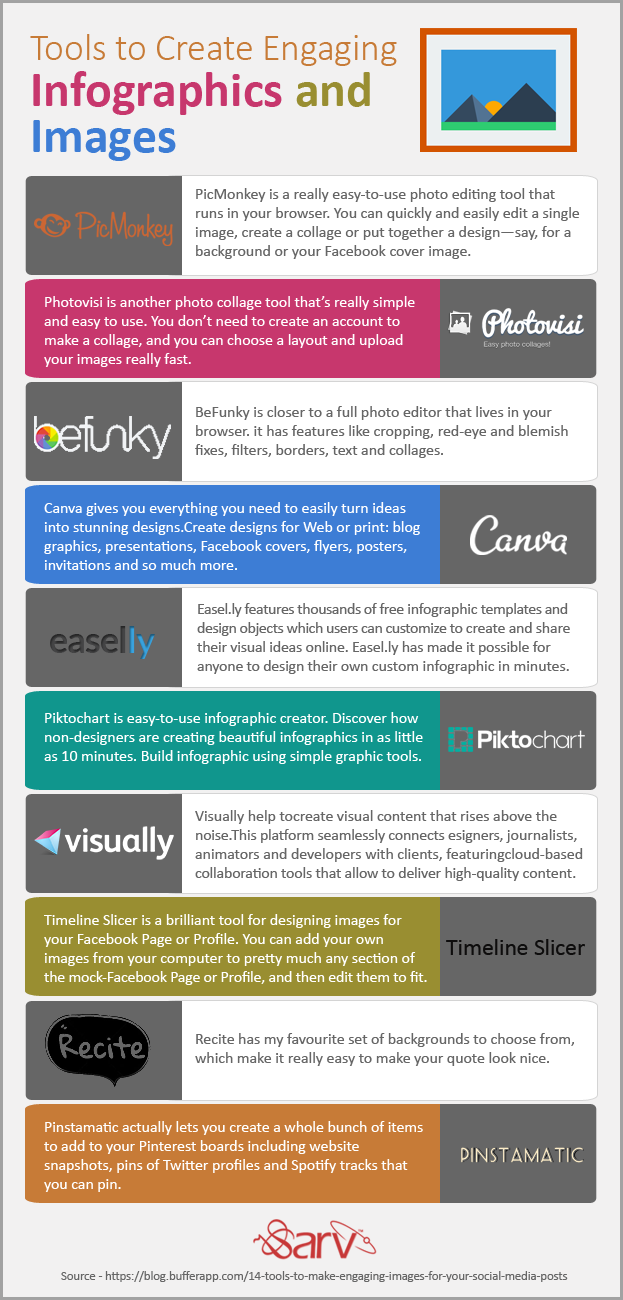 Also Read: Up-to-Date Social Media Image Size