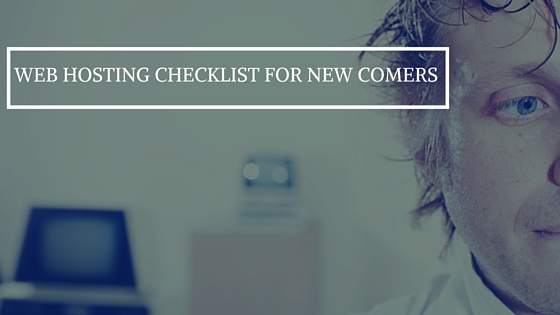 If you are thinking to shop for a managed web host service or ever have shopped the same you must have marked that how crowded the market is in terms of getting the best web hosting services.
Bad Web hosting company can be a nightmare for a website owner. So, if you're preparing yourself to purchase a web hosting service,there are a lot of questions whose answer should be clear in your mind.
But if you're even  unable quote those question then here are some points which should be considered when you're looking for a web hosting service.
#Price Range
Always remember that,
"You get what you pay for".
So, never try to get all the things if your budget is low. All you have to do is to first figure out your budget and always keep your requirement very clear in your mind that what you need for your business.because it is not a good decision to pay for what you even not require
Make a list of what you need, fix a budget and start searching for the company which could fulfill most of your requirements in the given budget.
Make sure before purchasing that, the company you've selected is providing the support to their customers or not. Start comparing the features of different service providers and pick out the most desirable and reasonable company in accordance to your needs.
#Technical And Customer Support

The next part which comes after the Price is Technical/Customer support assistance. It is really very much required that the company you are appending should provide you a full customer support service, which means you can talk to a live human 24X7 in case you face any issue.
If you're a beginner and then this canon becomes even more important for you.
Many companies provide various kind of customer assistance like email service, toll-free numbers and much more.
It's good to be sure that the support assistance a company is providing is in-house and not been an outsourced service from another company or country.
Make sure that the company you're getting attached gives priority to their customer as its better to get the solution from the company only rather than keep on wasting your time for small cliches.
#Focused Area And Aspects
Every Website has its own specific needs, explore your own needs  and make a list of it. Are you company a growing company,  a well established one or is just a start up, find out the specific needs of your website. For example, a blog website will definitely need fewer features than an e-commerce website. Some require plenty of RAM, ample processing power, and large or unlimited disk space, large bandwidth in order to function well. Make sure about the criteria like bandwidth, storage, support, disk space you and your business actually requires.
Always feel free to ask questions from the service providers you have included in your list. Make a list of questions and start asking them. Because this is the only way you can detect which company is feeding you all your needs.
After making the best list of companies check for which service provider is providing What extras apart from your needs.Do they provide an easy approach for novice people?Do they provide credits for the advertisement in Yahoo and Google ads? Is the domain privacy is free or you have to pay for this feature?
#Hardware Fitness
After looking for the services and requirements it's very necessary to know what  your provider is using. Even if all the services you were wondering is getting served by  your company but if there is some problem in the equipment used by the company. Seriously you are going to experience immense pain of web hosting service.
So, do ask your service provider that which server they are using. Remain guaranteed for your work by checking the reviews of other customers and making yourself sure about the quality of stuff they are using for you.
#Reputation Audit
Here is the main part where you need to do your homework very attentively. Go ahead, check out the social media status and dig the reviews of customers. This helps you to know what other customers think about the company you are going to trust. Do they provide good support for customer, if yes then do they really get a solution for their queries?
Checking the blogs and social media status of the company will help you to audit the reputation of the company in the market.
#Chances for Growth.
If you're a novice then it doesn't mean that you will be the same forever. Definitely, you are working to grow and explore your business. Before making a tick before any company name, it's very important to know that whether they provide a room to grow for their customers.
By chance to grow I mean you need to check that whether the service provider is allowing you to make changes or to upgrade your account. If you want to transfer the site to some other provider then is it be an ease for you or not.
If you are a novice please mark it up if you got the wrong service provider then your life will be n more than a hell. So, keep these points in your mind and make sure to make a checklist and make a deep comparison between the service providers.
Well, it's not all the time tough to decide the best web host provider. Sometimes depending on your needs  you can easily make a choice.  
Recommended: 3 Questions Before Availing Web-Hosting Service