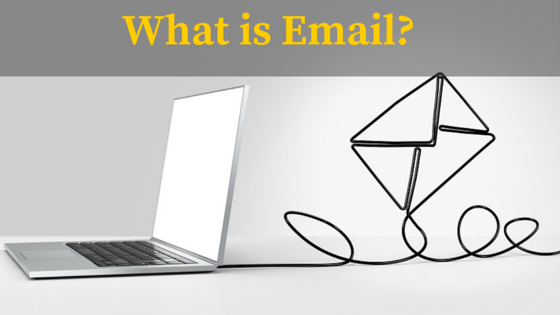 "Email" almost everyone is familiar with this word. Email or E-mail (Electronic mail), an electronic message running on a system made for receiving, sending & storing messages that may contain decorated text with attachments containing files, images, documents etc. Email is very popular around the globe for both personal & corporate communication.
If you have an email account, you can send your message to the other side within seconds. Email is like sending a letter; the only difference is instead of using pen & paper, you use keyboard to type a message on computer.
Pros of Email
It is more personal & direct medium for communication.

Very fast; messages are delivered within seconds around the world.

It allows to save & keep a record of your communication.

Easy to send with no time boundation.

Good example of One-To-Many communication

You may attach files, documents, images, & other media to an email.

You can access your email from anywhere with Internet connection kept on.

Activate your filters and receive only genuine mails.
Cons of Email
"Spam" is very big problem of email. These are unsolicited emails which are sent in bulk number.

Hitting unknown contact list in bulk through a tool will mark your mail a Spam. This will then affect your genuine mails too being landing in Spam.

Attachments can contains viruses which infect your computer.

You need an Internet connection to access your email.

You have to check your mailbox regularly & manage it to stay updated.
How to Write an Email?
1. "To Field" Type a valid email address of person to whom you want to send the email.
2. "From Field" should contain sender's email address.
3. "Subject" is the brief summary of your message. Write a short & accurate subject line. Make sure your subject line justify the content in your mail.
4. Message body is the location to type main message.
5. It's important to begin with a greeting Such as "Dear XYZ", "Hello Sir/Madam".
6. Introduce yourself in the first line or paragraph if you are sending the mail as an individual.
But if you are sending the mail to a bulk of email address on behalf of an organization then keep your introduction limited to subject line. No need to give extra information by adding paragraphs.
"Remember email is a way to share the information very briefly."
7. Write your message & put your main points in opening sentences. Get to the point and don't move in circles to explain a single point.
8. Be brief & polite. If your message is long then provide links or attachments in your message.
9. Say "Thank You" & add your signature with appropriate contact information.
10. Proofread or preview your message before sending it.
Web Mail and Email Clients
When i was new to the Internet, the difference between web mail and email clients was very confusing to me. Both web mail and email clients use the Internet to receive and send mail. Here is an explanation, let's take few minutes to understand – what is the difference between web mail and email clients?
Web Mail
With web mail, you can receive or send email over the Internet through a browser anywhere in the world. For this, you don't need to download any additional software or application, you just need an Internet connection.
You just need to log in to the web address of web mail. It requires your user name or email id and password.
Once you logged in, now you can receive, read and send the emails.
Examples:
The web mail service provided with your web hosting
Related Post : For Which One You Send Emails – Yahoo, Gmail Or Hotmail??
Email Client
Email client is a program which is installed on your computer to send and receive emails from your computer. Emails are stored on your computer and you don't need an Internet connection to read the messages you already received. You can also compose email while off-line. Once connected again to the Internet, the emails can be sent.
Examples:
Hope, now you have a clear idea about web mail and email client. Now take a look at email protocols you'll run into using email clients or mobile phones – POP and IMAP.
Here we'll explain how POP and IMAP work and will help you decide which one best fits your needs.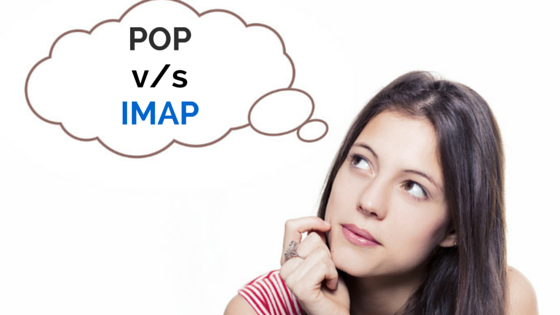 POP – Post Office Protocol
POP was created in 1984. POP downloads emails from mail server to computer. Once it's downloaded it is removed from mail server, so there after you can read the message only from your computer.
POP Workflow
Connect to mail server

Fetch download all mail

Store locally as new mail

Delete mail from server

Disconnect
POP CheckList
You have to download all the messages and you can do it for one time only.

It's necessary to save all the messages.

You can access emails only by single device.

You can read you emails without Internet connection.

Need Internet connection for sending and receiving messages.

It saves server storage space.

The main disadvantage of POP – you can't view & save messages on multiple devices.
IMAP – Internet Message Access Protocol
IMAP was designed in 1986. In IMAP, you can view & download the messages from your mail server. The emails are kept on remote email servers until the user deletes them. You can access you emails from any device from anywhere. We can say, it's a from of Cloud Storage.
IMAP Workflow
Connect to server

Fetch user demanded content and store it locally

Process user edits for instance rating, deleting or marking email as read etc.

Disconnect
IMAP CheckList
You can access message from anywhere.

You can delete or move message without saving it.

Email stored on remote server.

User will be able to access the e-mail in the Inbox from any computer.

Internet connection is needed to access mail.

Saves local storage space.
POP V/s IMAP – Which One I Use?
It depends on user needs and activity.
If you want to have access to your email from more than one computer, you should go for IMAP.

If you always view your email on one computer POP may meet your needs.
From my perspective, IMAP is better than POP. Google also suggests IMAP –
"If you're trying to decide between using POP and IMAP, we encourage you to use IMAP. Unlike POP, IMAP offers two-way communication between your web Gmail and your email client. IMAP also provides a better method to access your mail from multiple devices. If you check your email at work, on your mobile phone, and again at home, IMAP ensures that new mail is accessible from any device at any given time." – Gmail Help
Do you have some additional information about email? Would you like to share it with us? Please drop your views in comment box below!
Also Read: 30+ Email Acronyms Everyone Must Know