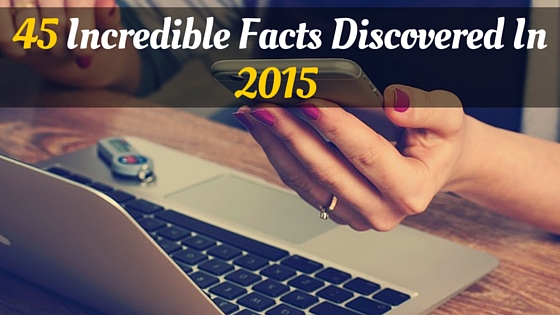 Everybody have welcomed new year with lots of new year resolutions. Businessmen must have discovered some new techniques to grow their business in more new ways. So, one more year passed away making email marketing one more year older but leaving behind some incredible facts discovered in 2015.
No doubt, Email marketing is an ideal way to get connected with your customers, promoting your products, services and to grow your business but there is one problem, it's not as attractive and shiny as social media but fortunately, that's the only problem in it. When it arrives to compare them as marketing strategy and ROI, Email is the best and far better way which directly affects your bottom line and helps you in growing your business.
I know some of you don't believe me, but I have 45 facts and statistics of Email Marketing which was covered in 2015. Here are some calculative numbers to make you realize How and Why Email Marketing is the heart of your business.
1. Email Marketing delivers the highest ROI (about $44 per dollar spent) of any digital marketing channel.
2. 66% of consumers have made a purchase online as a result of an email marketing message.
3. 64% of people say that they open their email because of subject line.
4. 76% of email open occurs in first two days after email being sent.
5. 72% of B2B buyers are most likely to share useful content via email.
6. 40% of B2B marketers rated the leads generated by email marketing as high quality.
7. Email with social sharing button increases click-through rates by 158%.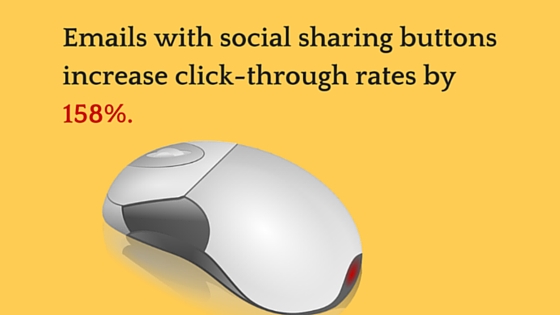 8. 64% of decision makers read their emails via mobile devices.
9. 70% of marketers say that email is the best path to increase marketing ROI.
10. 49% of B2B marketers spend more time and resources on email than on other channels.
11. 91% of consumers reported checking their email at least once a day.
12. 59% of marketers plan to increase their email marketing budget in 2015.
13. There are nearly 4.1 billion email accounts worldwide by year end 2015, with that number expected to increase to 4.9 billion by the end of 2017.
14. Email is expected to grow to $12 billion by 2016 and email traffic is estimated to grow to over 192 billion emails sent per day by 2016.
15. For every $1 spent, $44.25 is the average return email marketing investment.
16. 7 in 10 People say they made use of a coupon or discount from a marketing email in the prior week.
17. 48% of emails are opened on a mobile device & 39% of marketers have no strategy of mobile email.
18. 56% of business say they plan to increase the use of email marketing in 2015.
19. 27% of consumers were more likely to say their favorite companies should invest in more email.
20. 1 in 2 marketers use animated GIFs in their email campaign.
21. 44% email recipient made at least one purchase last year based on a promotional email.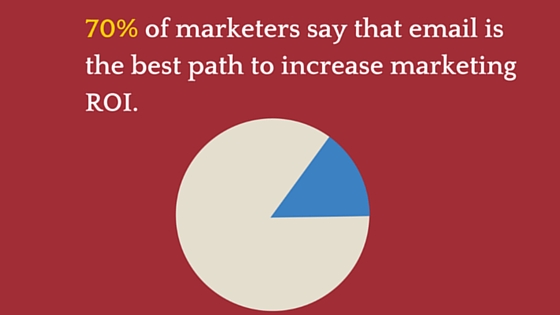 22. 72% of consumers sign up for emails because they want to get discount, but only 8.2 % sign up because they like the brand.
23. When asked, which medium consumers would like to receive updates from, 90% preferred an email newsletter, while only 10% choose Facebook.
24. A recent activity concluded that Email is almost 40 times better at acquiring new customers than Facebook and Twitter.
25. 27% of consumers were more likely to say their favorite companies should invest more in email.
26. Email marketing yields an average 4,300% return on investment for business in the United States.
27. Companies using emails to nurture leads generates 50% more sales-ready and 33% lower cost.
28. Small business owners estimate that getting an hour of their day back from doing email marketing(and other activities) is worth $273/hour.
29. Email conversion rates are three times higher than social media, with a 17% higher value in conversion.
30. 70% people say that they open mails from their favorite company.
31. How much time people spend in reading an email on desktop vs mobile.
| Desktop | Mobile |
| --- | --- |
| 0-3 seconds: 37.88% | 0-3 seconds: 41.01% |
| 3-15 seconds: 24.67% | 3-15: 24.93% |
| 15+ seconds: 37.45% | 15+ seconds: 34.06% |
32. 91% of consumers check their email at least once per day on their smart phones, making it the most used functionality.
33. Personalized promotional mailings have 29% higher unique open rates and 41% higher click rates than non-personalized mailings.
34. Companies that use email list segmentation saw 39% higher open rates and 28% low unsubscribe rates.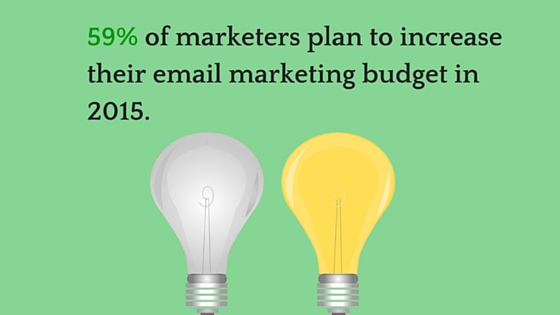 35. The two biggest factors influencing open rates are the organisation the email is from (64%) and the subject line (47%).
36. 73% marketers agree that email marketing is the core to their business.
37. 91 percent of US adults like to receive promotional emails from companies they do business with.
38. 59% of marketers plan to increase their email marketing budgets in 2015.
39. For 69.7% of U.S users, email the preferred method of communicating with businesses(email marketing).
40. Only 24% of marketers rarely or never use responsive email design.
41. 43% of business have email teams of 2-3 people.
42. 80% of content marketers use email marketing.
43. 55% of companies generate more than 10% of sales through email.
44. Spending on email marketing has grown by nearly $50B since last year.
45. Outside the work, Americans most commonly check their emails, while watching TV 70%, from bed 52%, on vacation 50%, while on the phone (43%), from the bathroom 42%, and even most dangerously, while driving 18%, according to adobe.
Going through all these 45 facts, now you can understand how email marketing strengthen the root of your business.Email marketing is the best way to do more in less for your business.
Related Post: 12 Insightful Email Marketing Stats to Know, Love and Share [Infographic]