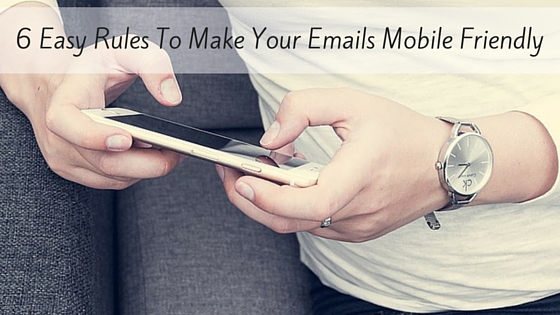 My day starts something like this way. I wake up before I could do anything and think anything I pick up my phone unlock it check out my messages, my emails. Then, I start getting ready for my office and check the emails again while having the breakfast and this continues till I get into my seat and get my coffee and start my day work.
Sounding quite similar right?
Yes! It is because it is the story of every youngster, every professional and every person. On an average before turning on my laptop I check out my emails up to 4-5  times. The usage of mobile is burning day by day and according to Litmus 53% of Emails get opened on Mobile Devices and there will be nothing wrong in expecting that it the percentage will increase in recent coming days.
So, if you're marketer and have very intense thinking for email marketing.
Then, start thinking about your emails, are they getting opened properly on your customer's mobile phones. If not then run and grab all the way to make your email mobile oriented.
Making this procedure too complicated will do nothing rather than make you confused. So start working on it but in very simple steps.
We have 5 simple steps for you to guide how you can optimize your email for mobiles.
#Rule 1: Single Column Rule
If you're using multi columns that are either two or more than it then the main issue which your customers can face is to read your whole content they have to keep on scrolling which makes it really annoying.
Trust me, when I see such multi-layered email I close it out immediately because I have to go for next email and don't have much time to keep on scrolling the same email again and again.
If I am not willing to do that then how can I expect from my customers to do that?
So, it a very important to keep in your mind while you're walking on the way of mobile optimized email that alway create a single column email and if the necessity very much maximum go for two.
#Rule 2: Use Big Fonts
Good selection of fonts, colors and contrast are very important for mobile optimization. Because it's genuine and normal that every person has his own mobile settings. It is common that to save battery we keep our brightness deem. So always keep your email ready for these situations. Using bright background and dark textures will help your customers read your email even in low brightness as well as whey they are out in daylight.
Always use simple layouts and big fonts because of the limited size of mobile devices.
Talking about size, it is recommended to Use a minimum of size 14pt for body text and 22pt for headlines. Be sure whatever you're writing make it simple and readable.
#Rule 3: Think About Images
Before inserting images into your email, think deeply about it. It's obvious that using images is a very important part of an email, but make sure that you're using one to three images.
This is so because in mobile devices like iPhone images get displayed by default but on other mobile devices like android  all you can see is a white blank space in the place of your attractive image.
So, it is always suggested to use alt text and image description for your emails so that even though your image fails to get uploaded yet the reader can see that this white chunk is for an  image.
Besides, it's always good to check a preview that if your email is looking good without email or not. Don't use a call to action option directly over the images.
#Rule 4: Use Concise design And Content
Writing concise email is always suggested but when it comes to making it optimized for mobile it becomes even more important to make the content of your email concise and provide simple designs.
Always try to make it simple and concise, readable focus on the essentials first.
#Rule 5: Use A proper Call To Action
Everything is perfect but you didn't provide a compelling call to action, trust me it will sweep out your almost half of your leads.
Make sure to use a clear call to action and try to place it near your the top of the email.
Using multiple calls to action is not a good idea to pull your customers, the only thing it will do is confuse the readers.
Whatever you want to say, say loudly use a clear and compelling call to action so that your customer won't face any difficulty in reaching you.
Remember that when checking an email over mobile the only mouse is your reader's finger, so make it all way comfortable for them.
#Rule 6: Mind The Gap
The gap in your email or space you added in your email is a very important concern. There is a lot of difference when you open an email on Desktop and when you open the same email on a mobile device.
So while creating the content for your email and inserting the images mind the gap you are making, avoid to use big space because nobody would like to scroll down white crutches again and again.
So, start changing your emails with the changing world. There are a lot of technique left which will help you in the mobile optimization of your email. But these were some of the points which you should keep in your mind before going for optimization.
Making your email mobile optimized will not only increase the number of readers but also will give more exposure to your campaign your success and your brand.
Recommended: 10 Stunning Reasons To Make Your Email Mobile Friendly And Boost Up Your Sales