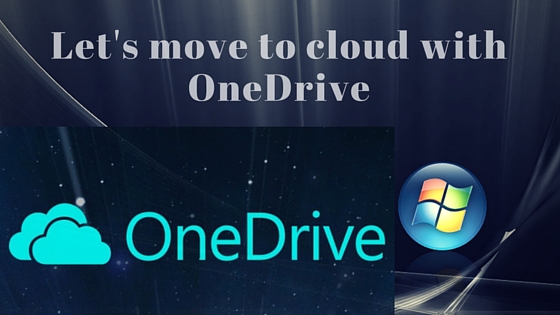 The term "moving to cloud "refers to an organization moving away from a traditional CAPEX model (buy the dedicated hardware and depreciate it over a period of time) to the OPEX model (use a shared cloud infrastructure and pay as one uses it). Wikipedia
Cloud computing, also known as on-demand computing, is a kind of internet-based computing, where shared resources and information are provided to computers and other devices on-demand. Cloud computing has now become a highly demanded service or utility due to advantages of high computing power, cheap cost of services, high performance, scalability, accessibility, as well as availability.
Related: An Overview of Cloud for Beginners
Now, coming to OneDrive (previously SkyDrive, Windows Live SkyDrive and Windows Live Folders) is a cloud storage introduced by Microsoft is a file hosting service that allows users to sync files and later access them from a web browser or mobile device. Users can share file publically or with their contacts, publicly shared files do not require a Microsoft account access. It is part of the suite of online services formerly known as Windows Live. The current storage limit for OneDrive users is 1 TB for Office 365 paid subscribers or 5GB of free sorage.
One place for everything in life
Let's remain in sync
Edit a word document or take a picture on a Windows Phone and it's automatically synced to the cloud with OneDrive. That means you can easily access your documents and photos from all of your Windows devices or from any computer by going to OneDrive.com.
Office apps across devices
With Windows Phone, your favourite Office apps have been redesigned to make you more productive on the move. Word, Excel and PowerPoint have easy to use rich editing tools that you're familiar with on a PC. And with OneDrive syncing your documents in the background, you can create a PowerPoint presentation on you PC and pick up where you left off on your Windows Phone.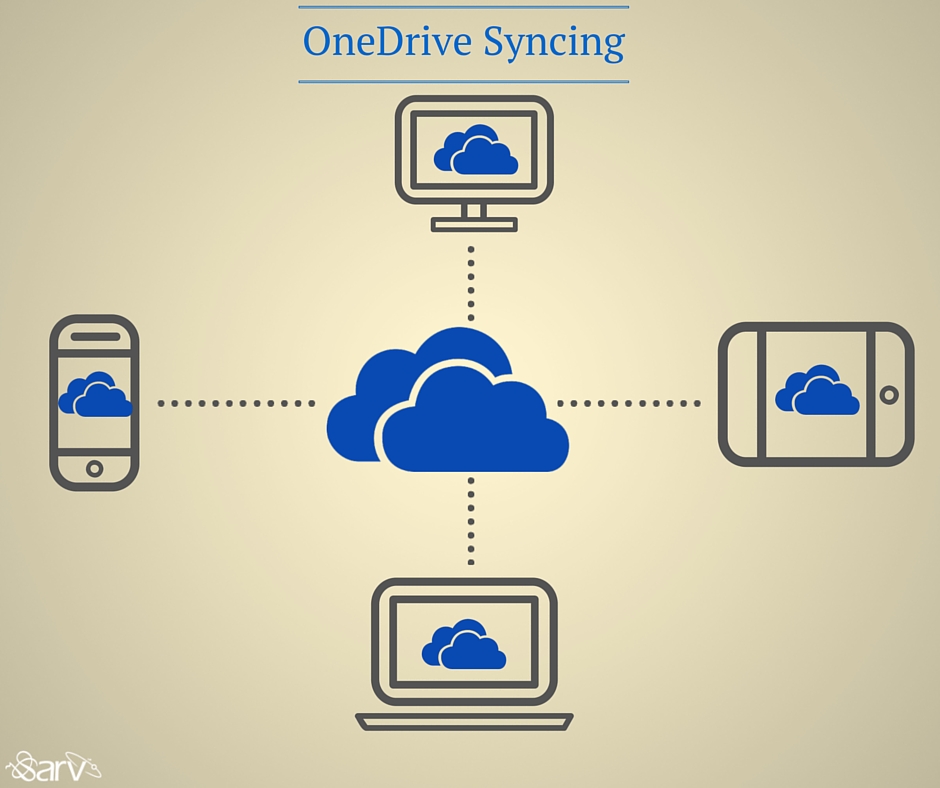 Photos in sync
With OneDrive, you can automatically upload your photos to the cloud making them easily accessible on you PC, tablet and phone.
Quick and easy sharing
Office apps are synced with OneDrive so you can collaborate with your coworkers-create a Word document and work on it simultaneously with anyone, anywhere.Your edits show up in real time
For More Information, Visit – https://onedrive.live.com/about/en-us/
Cool benefits you may not have known about storing your files in OneDrive
Versioning
View , Download or restore a previous of your Office Files
Embed
Take your office files, Picture or Video and generate an HTML code that allows you to embed them somewhere else
Integration with Office
Automatically opens and save files to OneDrive straight from Office
OneDrive & OneDrive For Business
Quick overview of one drive
"One place for everything in life" is the message you will see on the OneDrive home page. It's clear by the tag line that OneDrive is intended for personal use.
OneDrive is a personal place for you to store your files and access them later from any device. The difference or advantage rather, is that the files are actually securely stored online in the famous "cloud"
You have been using the cloud for years when accessing your emails on Hotmail or Gmail, etc. The difference is now it has been extended to store your files as well and given a name, OneDrive.
Summary: OneDrive is the personal online storage of your files
Quick overview of OneDrive for Business
This one can be little more confusing at first because of its brand name. One would assume that ODFB is simply OneDrive with some extra features to help business get the job done. However, it actually has nothing to do with OneDrive in terms of what it actually is.
In short, OneDrive for Business brings teams together working on document amongst other things using a business account and not their personal one.
Summary: OneDrive for Business uses a platform called SharePoint to give each member of you team a place to store or work on documents with others. Because it uses SharePoint it also provides more administration option for working with documents. It does not require being on the cloud and can be installed on your servers.
OneDrive vs OneDrive for Business
| | | |
| --- | --- | --- |
| Features | | |
| Desktop Syncing | | |
| Windows Pc | ✔ | ✔ |
| Mac OS | ✔ | Coming soon[It is expected that Mac users can also enjoy Desktop syncing property over this year] |
| Storage | 15GB | 1 TB per user |
| Mobile Access | ✔ | ✔ |
| Windows Tablet | ✔ | ✔ |
| Android | ✔ | ✔ |
| ios | ✔ | ✔ |
| Windows Phone | ✔ | Office Mobile app is required |
| xBox | ✔ | X |
| Create and Edit documents in browser | ✔ | ✔ |
| Versioning and History of documents | | |
| Basic automatic creation and recovery of versions | ✔ | ✔ |
| Management of versioning | X | ✔ |
| Multifactor authentication support | ✔ | With OneDrive for business subscription,SharePoint online and Office 365 supports multifactor authentication |
| Auditing and reporting | X | ✔ |
| SSO/ADFS/Directory sync support | X | ✔ |
Hope you like this information. if you want to share any additional information about OneDrive, do drop in comment box below. We'd like to hear from you!
Recommended: Introduction to Google Drive – A Cloud Storage Service